Your website is your business online! We believe that every business is unique and our web designs are crafted to appeal to your target market and communicate your business brand and marketing strategy.

XENYO is great and they always deliver quality product. They make sure the result is just the way you want it and are very knowledgeable . I would certainly recommend them to anyone.
- ERICA VILLENEUVE   
WHATSONTHOROLD.COM
XENYO Web Design Agency
We build sites that Search Engines love!



Search Engines are the roads of the Internet, what's the point in building a place that cannot be found?
Our SEO experts works together with our website designers to make sure that your website will be properly optimized and appeal to BOTH visitors AND search engines.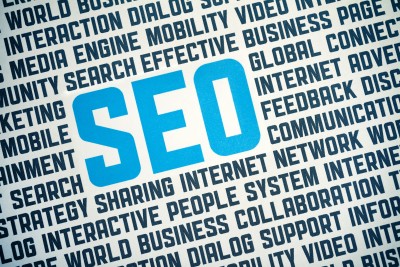 We build sites that you can control!
We incorporate an easy to use Content Management System ( usually Drupal) into our sites so you can maintain the site yourself. You can easily add articles, products, blog posts yourself and there is no need to pay us a cent to manage the site after the site is built.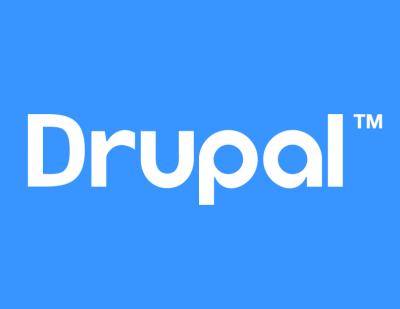 We're in Hong Kong
We are located in Kwun Tong, Kowloon and our clients appreciate being able to call us or come over to our office to collaborate on their website. Feel free to speak to us in English or Cantonese!
 
Our Web Design Process
With the combination of research and professional experience, this is Xenyo's approach to each of our projects. 
Research & Planning Phase
Argubly the most important stage in web design because it will set the stage for the rest of the project. We believe that a good design stems from a firm understanding of the underlying purpose of your project. 
Project Vision & Requirement Analysis 
Your project begins with a intial meeting, here you'll briefly share with us the project's vision & in return we'll offer our experienced suggestions. This meeting is for us to collect as much relevant information as possible, important points such as goals & purposes, target audience & detailed feature requests (i.e. mulitlingual, e-commerce) will be noted. At this point the project manager will solidfy these ideas in a written document called the Project Brief, which becomes the guideline for the design of the project.
 
Information Architecture
The foundation of a well designed website comes from the information architecture established at the start. With detailed Flowcharts (illustrating the navigation) & Sitemaps (placement of pages) we construct a website that makes sense & one that is ultimately user friendly.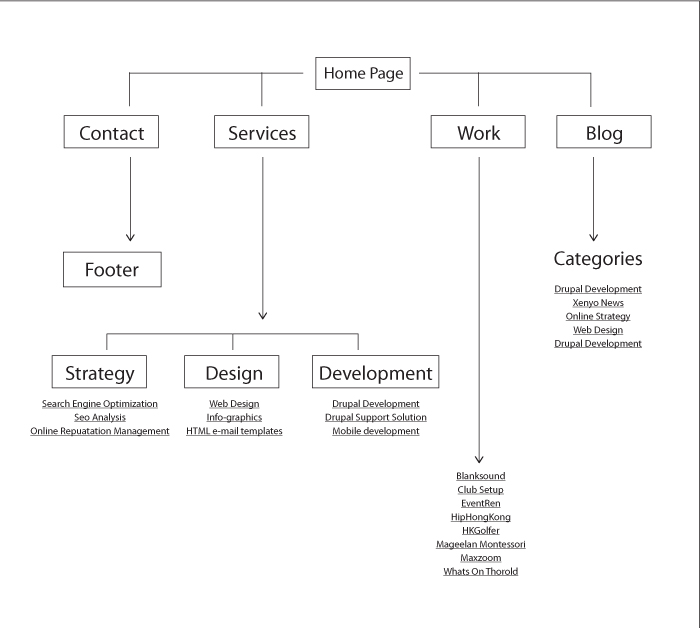 Design Phase
Using the constructed documentation the designer will deliever a visual representation of your project.
Wireframes
With the aid of the documentation above the designer will create quick sketches of the layouts (known as Wireframes).
Wireframes allow the designer, developer and clients to do the follow:

 




Test and refine navigation

See how content lays out on the page

Study and rapidly refine the user interface design of web forms and interactive elements

Evaluate overall effectiveness of the page layout against usability best practices

Determine web development/programming requirement, efficiently saves development time in the future.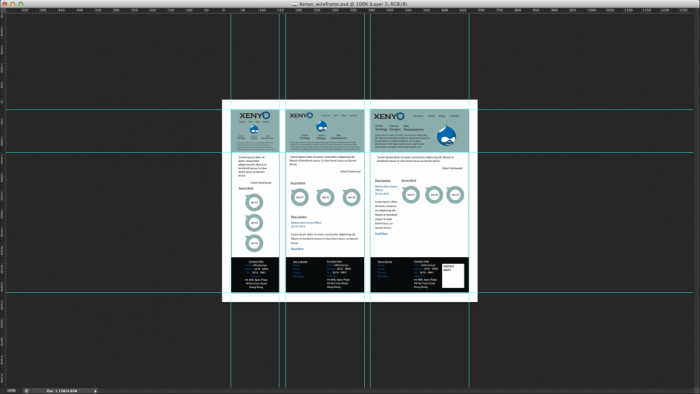 Xenyo Responsive Design Wireframe
Mockups
To kickoff the visual design of your project our designers will begin with the homepage, this will provide you with the general impression & aesthetics of your site. Once you are satisfied, the style-sheet (a page with all the consistent design elements) & sub-page mockups will then be constructed. Photoshop is the standard program we use to create our web designs, it provides the ability to easily modify any requested tweaks & it allows our developers to percisely slice images in the coding stage. 

  

Review and Approval


At this stage you are able to voice any feedback or comments about the design of your website so far. We will not begin any development work before your apporval of the design because once the development has began it is very difficult to make any major modifications to the design.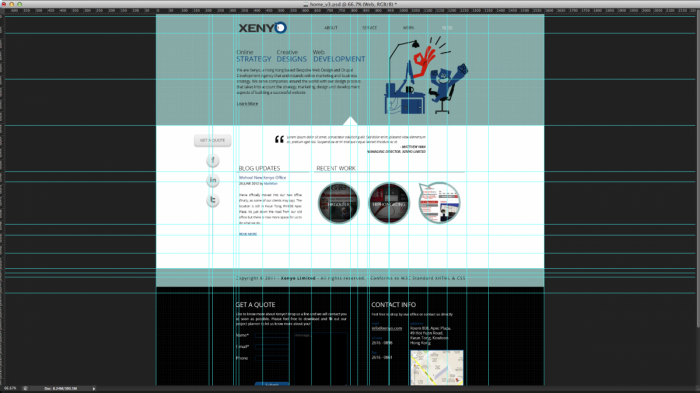 Xenyo Site Design Homepage

Xenyo Site Design Style-Sheet


Drupal Development & Site Launch Phase
Click Here to Learn More about our Drupal Development and Site Launch process.

Tell us about your project
Feel free to take a look at our recent works or tell us about your Website Design project now.